The Bissell Spotbot Pet Deep Cleaner 33N8/ 33N8A is Bissell's premier spot cleaner that offers handsfree cleaning. Users can place the Spotbot over the stained area, choose from one of two preset cleaning cycles for removing stains and spots, then turn it on and walk away! It's built for pet owners who have to deal with frequent pet messes, but works well for anyone wanting a hands-free carpet spot and stains cleaning machine.


A hand-held hose and tool incorporated into the machine makes it ready for use on larger stains, auto interiors, upholstery, and stairs. The versatility and effectiveness of the Spot Bot is clearly deeply appreciated by a lot of users, but it is right for your needs? Here, we will carefully review both the pros and cons of this portable cleaner.
Note on Model Variations: The Bissell SpotBot deep cleaner is sold under slightly different names and model numbers (eg. 33N8, 33N8A, 33N8T and 78R5), but they are all basically the same item. In particular, models 33N8 and 33N8A are the same product – same color, microban feature, sample detergents and both have the same stain tool accessory. For other models, the differences lay in the external color schemes and types of sample cleaning detergent included in the package.
Bissell Spotbot Pet Handsfree 33N8/ 33N8A Carpet Cleaner Features & Benefits
Automated Smart System – Hands-Free Carpet Stain Removal
The Bissell Pet Spotbot 33N8/ 33N8A features an Automated Smart System for hands-free carpet spots and stains removal. Turn it on and walk away. For hands-free cleaning, the Spotbot Pet is first placed over a stain.
The computer-controlled cleaner has two motorized brush settings, one for newer, surface stains (3 min) and a second for older, deeper stains (6 min). Users can get cleaning started with the push of either button. The Spotbot Pet sends an alert when cleaning is completed.
Portable & Lightweight (Approx. 14 Pounds)
This compact and portable spot cleaner measures approximately 18 inches in width, 15 inches in height and 10 inches in depth. The unit comes crafted with a convenient carrying handle at the top. At around 14.1 pounds without water, it definitely qualifies as a lightweight cleaner. Portable cleaners with similar cleaning power seldom fall below 13 pounds.
Patented Deep Reach Technology For Deep Cleaning
The Bissell Spotbot Pet 33N8/ 33N8A incorporates the patented Deep Reach method which forces cleaning solution deep into the carpet, where the spiral brush action (two brushes that move in different ways) together with suction power removes dirt and stains from the bottom up. For both automatic and manual operation, the Spotbot deep cleaner sprays and suction-dries in a single step. The soft brushes will not damage carpeting.
7 Inch Cleaning Diameter
The Bissell Spotbot's automated brushing will clean a round 7″ diameter area. A spiral brush action lifts stains and dirt from the carpet.
No Built-In Water Heater
This spot and stain cleaner model does not have a heater. If warm water is needed, it must be added. Note that almost all home carpet cleaners, whether portable or upright shampooer units, do not come with any built-in water heater.
Manual Mode Versatility
Another button setting activates the hose/hand tool for manual operation. That way, users are not just limited to the handsfree set-up, and allow this little cleaning machine to operate like any other portable deep cleaner.
5-Feet Hose
The Bissell Spot bot hose attachment allow users to manually clean as they wish. It's great for cleaning the stairs, upholstery or automobile interiors. The onboard 5-ft hose/3-inch hand tool combination can be used to remove spots and stains from upholstery, car interiors, and stairs.
3 Inch Cleaning Path Stain Tool
The hand tool combines manual brush action with the power of the cleaners' suction motor, making it easy to pull the dirt particles off carpets. Several other hand tools, including a stair tool and a TurboBrush hand tool, can be purchased separately.
Clean/Dirty Water Tanks
The Bissell Spotbot Pet 33N8/ 33N8A has two separate water tanks – one for filling in clean water and the other for collecting dirty water. The tank size is 32 oz.
16 Ft Power cord
The 16-ft power cord is sufficient for most automatic cleaning operations, and for most manual operations as well.
One-Year Warranty
The Bissell Spotbot 33NA comes with a one-year limited warranty.
[walmart rectangle 20513288]

[walmart http://www.walmart.com/ip/Bissell-SpotBot-Pet-Cleaner-33N8A/20513288 Check Price/Availability at Walmart.com]
Bissell Spotbot Pet Deep Cleaner 33N8/ 33N8A Overall Review
Excellent for Small Spots
Pet owners love the Spotbot Pet Spot and Stain Cleaner, especially pet owners who have cats that vomit or dogs that have not yet completed house training 101. This little machine works as well as any in removing small spots and stains, no matter how old or tough they may be. Larger spots will sometimes require several operations, although the manual brush can also be used effectively.
Quick Effective Cleaning
This spot cleaning machine not only does an excellent job of removing stains, but does so quickly and without requiring much effort from users. Surface or recent stains usually take about 3 minutes to remove using the automated surface stains cleaning button. Older, deeper stains usually disappear within 6 minutes.
For spot and stain cleaning, this machine is considered by many users to clean just as well as, or sometimes even better than, steam-cleaning rentals or professional cleaning services. It is super-easy to use, and comes ready-to-use right out of the box (it is still a good idea to read the instructions).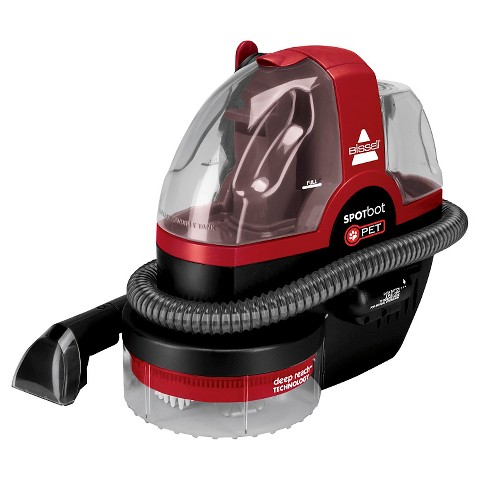 Solution Tanks are Easy to Access and Fill
Neither of two tank chambers has large openings, but both are easy to access and fill. The dirty reservoir is easy to empty and rinse out. The detergent tank should also be rinsed out rather than be allowed to sit for a long time. As far as keeping the unit clean is concerned, an item sometimes forgotten is the hose.


Best Price
The Bissell SpotBot Pet and Stain Cleaner is reasonably priced, but as is the case with many appliances, it can often be purchased at a discount online. We saw that both Walmart and Amazon often have the best discounts for this. With Walmart, the company offers the choice of store pickup or delivery to your home. In addition, shoppers can choose between the [walmart http://www.walmart.com/ip/Bissell-SpotBot-Pet-Cleaner-33N8A/20513288 grey/silver 33N8A] or white Spotbot 78R5.
Target often has this at a very competitive price as well. The SpotBot comes in a unique Red/Black look customized for Target shoppers. Check out Target's Bissell Spotbot price/availability here.
EBay often has great deals from sellers competing for your business. Sometimes, you can find attractive bargains by sellers of refurbished units. The platform often has plenty of new in box listings, and its worth checking out their prices. Make sure to read the descriptions and warranty info.
Compared To Other Top Portable Carpet Cleaning Machines
The Bissell Spotbot Pet stands out because it is the only portable carpet cleaning product line that offers handsfree set-it and walk-away cleaning. This is usually the key reason why many shoppers purchase the Bissell Spotbot Pet 33N8 (current Spotbot Pet model). The Bissell Spotbot Pet is most frequently compared to the Bissell SpotClean Professional 3624. Both cleaners are top tier carpet cleaning machine best-sellers on Amazon.
Bissell SpotBot Vs. Bissell SpotClean Professional 3624
Compared to the Bissell SpotClean Pro 3624, the Bissell Spotbot Pet 33N8 has a lower motor power amperage and smaller water tank. The Bissell Spotbot Pet is powerful enough to clean off bad stains and pet messess. However, if you want something even more powerful and don't mind giving up on the automated smart cleaning process, the Bissell SpotClean Pro 3624 would make a better choice for you.
The SpotClean Pro 3624 also comes with both a 3-inch and a 6-inch wide handheld cleaning tool, while the Bissell Spotbot Pet 33N8 includes a 3-inch handheld tool in addition to its automated brushing system.
Bissell SpotBot Vs. Rug Doctor Portable Spot Cleaner
Unlike the Bissell SpotBot Handsfree portable cleaner, the Rug Doctor Spot Cleaner does not have an automated cleaning mode. It comes with a motorized brush included, but the user still needs to tend to the stain cleaning process. However, the suction power of the Rug Doctor Portable is much higher, which means its a better machine at suctioning water and dirt off the carpet.
The cleaning path of the handheld brush is 4.5 inches on the Rug Doctor Portable vs. 3 inches with the SpotBot's included handheld brush. Bissell makes additional accessories for their portable machines that can be bought separately. If you like a machine that is versatile in terms of the number of different accessories of handtools it can work with, be sure to carefully consider a Bissell.
Compare the Bissell Spotbot Pet 33N8 with more portable carpet cleaners here >>
Things to Look Out For
For Cleaning Stains and Spots, Not Entire Rooms
The Bissell SpotBot 33N8A is a small portable carpet cleaner for spots, stains and pet messes. It's small, compact nature means it's easy to bring out and use before new stains have a chance to set-in. It is not meant for cleaning large spaces and rooms.
Although upright carpet cleaning machines can be used for cleaning spots and stains, users prefer portable units like the Bissell SpotBot Pet for smaller jobs because it is less effortful to move around and use. If you would rather get a good upright cleaner for cleaning the entire home, check out the Bissell DeepClean Premier Pet Carpet Cleaner 17N4.
Another consideration is to go for a lightweight carpet cleaner, which is also meant for cleaning stains and spots, but incorporates a wider cleaning path for cleaning small areas rather than isolated spots (eg. small rooms).
Rings Appearing
Some users complain about rings appearing in areas where the SpotBot Pet has done its magic. This is often the case because while the stained area has been cleaned, but surrounding areas actually holds a lot of diffused dirt. The contrast becomes stark.
This is not a situation unique to SpotBot users, but similar situations are experienced by users of other portable carpet cleaner units like this. It may be more pronounced with the Bissell Spot Bot because it's automated brushing is set to a go in a circle. One way to address this is to use the handtool attachment to smooth out the edges of the ring.
When the entire carpet is dirty, small areas cleaned by the Bissell Spotbot Pet cleaner tend to stand out after they are cleaned. This odd appearance can be avoided by keeping the entire carpet as clean as is practical, and to clean it once in a while. Users may want to consider cleaning their entire home carpet every 3 to 6 months with a full-sized upright shampooer or rental machine.
Maintenance Tips
Be sure to dump the dirty water, rinse out the tank and allow it time to dry before storing. One user suggested for the hose to be cleaned periodically with a bleach solution to remove mold or bacteria that may have accumulated. Even though the product has microban protection, it is not clear if that covers the hose. Just be observant and careful. Besides this point, there are lots of additional maintenance and troubleshooting tips in the manual.
Use Bissell Branded Detergent
Bissell warns against using non-Bissell branded detergent as it could damage the Spotbot machine and void the warranty. If you are an experienced carpet cleaner user and know what you are doing, this rule may not deter you. If using cleaning solutions other than those supplied by Bissell, take care not to use solutions that are too strong. They may leave residual markings. This is not the machines fault.
For users looking for a good detergent formula, Bissell branded formulas do work very well with Bissell cleaners. The most popular cleaning solutions purchased with the Bissell SpotBot 33N8 are Bissell 2X Pet Stain & Odor Portable Machine Formula and Bissell OXYgen BOOST Portable Machine Formula.
Should You Buy the Bissell Spotbot Pet Handsfree 33N8/33N8A Spot And Stain Deep Cleaner?
For homes with household pets, the Bissell Spotbot Pet cleaner will make clearing out ugly and bad-smelling pet stains or other carpet stains fast and painless. It works well for homes with or without pets, for cleaning all types of carpet stains, or for auto upholstery and carpeting.
The Bissell Spotbot Portable Deep Cleaner is a great choice for users looking for handsfree, set-it and walk away spot and stain removal. This is the compact portable machine to get if you want a spot cleaner that cleans the stains out without having to scrub and labor over the spot. For more difficult stains, cleaning auto upholstery or other non-standard kinds of spot cleaning, you will still have a choice to go the manual scrubbing route with the handtool provided.
Bissell SpotBot Deep Cleaner Deals
Not sure about the Bissell Spot Bot? Check out more choices in the Portable Carpet Cleaning Machines Reviews section.
Limitation: We put every effort to provide the most accurate and helpful information but we cannot provide any warranties on this information. Please always research and use your discernment before you try the product or make a purchase.
Latest posts by Emmeline Chu
(see all)